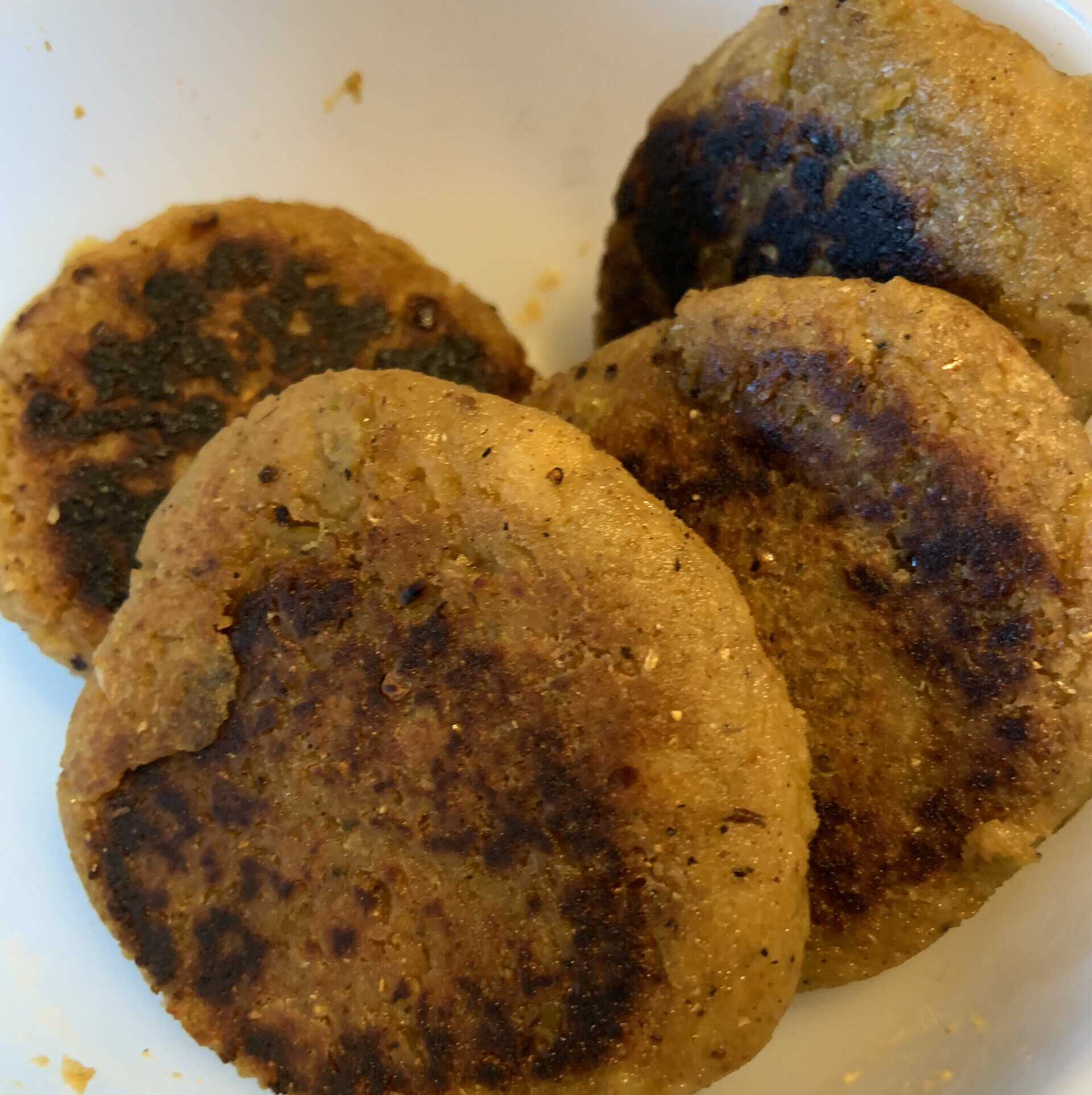 Aloo Tikki is a very popular street food item in India. In an attempt to make this Tikki more flavorful and protein-based, I have modified the recipe a little. You can make these tikkis (meaning medallions) as finger food with an assortment of dips (mint-yoghurt, tamarind) or you could use it as patties for burgers.
INGREDIENTS:
ALOO CHANA TIKKI
– 265 gms. boiled chickpeas
– 2 small onions finely chopped
– 3/4 medium sized boiled potatoes
– 1 small bowl of boiled peas
– 1 tbsp. of ginger-garlic paste
– 1 finely chopped green chilli
– 1 tsp. each of
jeera powder (cumin powder),
dhaniya powder (coriander seed powder),
garam masala powder,
amchur powder
– 1 small bowl of breadcrumbs
– salt and sugar acc. to taste
– oil for shallow frying
MINT-YOGHURT DIP:
– 2 small bowls of whisked yoghurt
– mint leaves
– 1 tsp. of jeera (cumin) powder
– rock salt (acc. to taste)
– sugar (acc. to taste)
TAMARIND CHUTNEY
– 50 gms. tamarind,
– 2 cups of hot water,
– 25 gms. dates (optional)
– 1 tsp. oil,
– ½ tsp. jeera (cumin) powder
– ¼ tsp. heeng (asafoetida)
– ½ tsp. red chili powder
– ½ jeera powder
– ½ ginger powder
– ½ tsp. salt
– ½ tsp black salt
– 50 gms. jaggery
– 3 tbsp. sugar
METHOD:
Heat a tsp. of oil in a pan. Once the oil is hot, add onions, a pinch of salt and sauté till brown on medium flame. Then add the ginger-garlic paste and the spices (and finely chopped chillies if you like it spicy). Continue to sauté till the mixture becomes aromatic. Add the peas and let cook with a lid for 1-2 minutes.
Then add drained chickpeas, salt, sugar and a dash of water. Cook with a lid on low flame for about 5-6 mins. If the mixture still has some moisture, let it cook in the pan without the lid till the moisture evaporates. Let the mixture cool down completely.
Add the peeled potatoes, breadcrumbs and the chickpeas mixture to a blender and blend into a smooth dough. It the dough is too soft, then add some more breadcrumbs for it to become firm.
Add salt and sugar according to taste.
Divide the dough into small round balls. Press each ball firmly between greased hands and then shallow fry/ bake it. The Tikkis are ready.
You can serve the Tikkis as is, as a burger or with one of the following dips.
MINT-YOGHURT DIP:
Mix all the ingredients together and whisk them well together. Let the dip sit in the fridge at least for an hour.
TAMARIND CHUTNEY:
Soak the tamarind in water for 30-45 mins. Boil it in a pan for about 10-12 mins (along with the dates) till the tamarind becomes very soft and let it cool. Then blend it. You will get a thick mixture. Sieve it. Set it aside.
Heat oil in a pan. Add the spices in it and toss for a few seconds. Then add the tamarind mix and the sugar and jaggery. Cook it on low flame till the jaggery melts in it. Let the chutney cool.
Place a Tikki on a small serving plate. Top it off with some finely chopped onion, some coriander, a little bit of yoghurt and tamarind sauce.